Sport meets nature!
Cross-country skiing in Lofer
The wide, sunny valley basin between Unken and Weißbach, and more than 80 km of well-groomed trails make the Salzburg Saalachtal a real cross-country skiing paradise. Fans of this healthy sport can indulge their passion on trails of varying length and difficulty. The various trails in Lofer offer a special natural experience to suit all types of cross-country skier, whether you're a fan of the classic or skating style.
Our trails in the vicinity:
Hochmoos trail: from Gh Hochmoos towards St. Martin

Kellerwald trail: demanding 1 km loop for skaters

Lufstenstein trail: 2 km cross-country trail for all levels

Martiner trail: floodlit from 5pm to 9pm every day

Scheffsnoth trail to Au: 7.7 km trail with panoramic views

Oberweissach trail: Choose between the 450 m trail and the 900 m trail

Unterweissbach trail: 2.5 km through idyllic landscapes

High-altitude trail on the Lofer pastures: 4 km on snow-sure terrain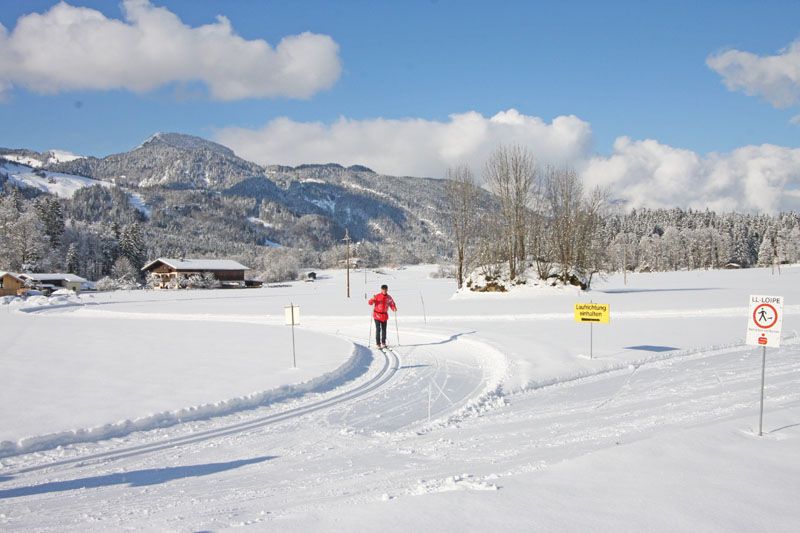 Cross-country skiing in Unken Heutal!
The Unken Heutal offers a real cross-country skiing paradise, with a total of 50 km of perfectly prepared trails and the promise of beautiful sensations while skating over the sunny Alpine plateau. Snow-sure trails lead to the Winklmoosalm, among other destinations.